Open Mic Every Sunday, Live Music, Jam Sessions, Kasauli, Himachal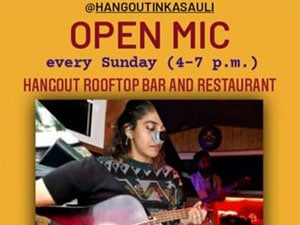 Estimated reading time: 6 minutes
Come, Sing, Recite a poem, play flute and Guitar with us at Open Mic, Jam Session at Hangout. So Every Sunday 4 to 7 pm Musicians gather for Live Music. Jam Sessions follow up later after 10.30 pm because musicians stay late mostly.
 Hangout is on the rooftop of Hotel Kasauli Regency. This is the first ever Open Mic in Kasauli's history. Next Sunday we are going to have 17th edition of this Musical Evening/ Jam session after Christmas and before New Years.
Open Mic, Live Music in Kasauli, Late night Jam Sessions
So Open Mic is doing great, this Sunday was successive 14th since it started. Artists who had their first performance few weeks before have started singing really nice. We are so happy with the kind of effect this event/ Jam sessions have brought. Last Sunday we had 3 Youngsters from the Town, and they really sang well at Live Music Event.
Can anyone participate in Open Mic
Any person who wish to perform, act, sing, stand up comedy or play musical instruments can participate
Do I have to bring my own instruments ?
Not mandatory, We have good Guitars, Cajon, Ukulele, Mouthorgan, Dholak, Digeridoo etc. available at Hangout.
Can one recite Poetry at Open Mic ?
Yes, poets are welcome.
When it starts and on which days.
Event Starts at 4 PM and happens Every Sunday.
Can only professional singers sing ?
No, Open Mic invites all professionals and Non professionals.