Kasauli Open Mic 4-8 pm Every Sunday, Live Music, Jam Sessions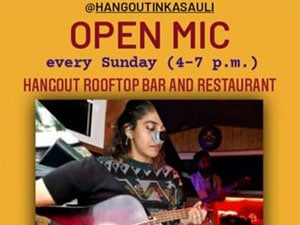 Estimated reading time: 6 minutes
Come, Sing, Recite a poem, play flute and Guitar with us at Open Mic, Jam Session at Hangout.
Can anyone participate in Open Mic
Any person who wish to perform, act, sing, stand up comedy or play musical instruments can participate
Do I have to bring my own instruments ?
Not mandatory, We have good Guitars, Cajon, Ukulele, Mouthorgan, Dholak, Digeridoo etc. available at Hangout.
Can one recite Poetry at Open Mic ?
Yes, poets are welcome.
When it starts and on which days.
Open Mic in Kasauli Starts at 4 PM and happens Every Sunday.
Can only professional singers sing ?
No, Open Mic invites all professionals and Non professionals.