Kasauli Open Mic 4-8 pm Every Sunday, Live Music, Jam Sessions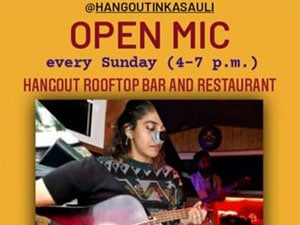 Come, Sing, recite a poem, play flute and Guitar with us at Open Mic, Jam Session at Hangout.   

  *LIVE Stream of OPEN MIC Every Sunday 5 pm.
Share with Friends
So Every Sunday 4 to 7 pm Musicians gather for
Live Music
. Jam Sessions follow up later after 10.30 pm because musicians stay late mostly.
 Hangout
is on the rooftop of
Hotel Kasauli Regency.
This is the first ever Open Mic in Kasauli's history. Next Sunday we are going to have 17th edition of this Musical Evening/ Jam session after Christmas and before
New Years
.
Open Mic, Live Music in Kasauli, Late night Jam Sessions
So Open Mic is doing great, this Sunday was successive 14th since it started. Artists who had their first performance few weeks before have started singing really nice. We are so happy with the effect Open Mic/ Jam sessions have brought. Last Sunday we had 3 Youngsters from the Town, and they really sang well at Live Music Event.
Upcoming artists and Live Music in Kasauli
Astha Ray is a friend and an advocate in Chandigarh. She used to sing well even before but now she has picked up Ukulele and she is doing great. Live Music in Kasauli, Open Mic and Jam Sessions have brushed up her talent. All the best Astha and keep it up. Veda, Kritika (Mitthu), Saloni from Sanawar sing really nice almost every Sunday during this Live music evening in Kasauli. Siddharth Kundal and Sidharth Garg, 2 guys from Delhi working online here have started singing well.  Other hotels in Kasauli also give discounted rooms to the musicians performing at The Open Mic. Because of this live Music in Kasauli I am hoping for a new generation of Musicians grooming here in a town of British Colonial era.
When I started learning Guitar few years ago, I couldn't find even a single guy to teach. But now, I know at least 10 in Kasauli having nice command over different musical instruments. Paras and Shaurya Chopra are amazing on Cajon. Skand Sharma and Sanchit Sakhlani are budding artists and love to sing at Hangout. Dr. Raina does a bit sometimes with his mouth harp whenever he gets time from busy schedule. He also performed in a Live Music event in Vietnam on a Boat Cruise.
 See you guys on Sunday Open Mic no. 26 at Hangout
Open Mic, a European Concept of promoting Music
Travelling abroad and also Goa introduced me to Open Mics and Live Music. In an Open Mic you can sing, play instruments, recite a poem, act, or do anything creative. You don't have to be a professional, but if you have a little zeal to sing or perform, this is your first step in. I never used to sing 5-6 years ago but Open Mic concept got me in to the world of music. Last year I was travelling to North of Thailand, a small town called Pie hosts Open Mics every Sunday. I ended up singing 5-6 Hindi songs among an audience of 200 and none an Indian. Many European towns still have these live Music events.
Check out some Pics news and  Videos of  Open Mic on YouTube.  One of the famous Musical Evenings at this Hotel every Thursday at Hangout, there is Techno Music. Hangout is the only place for Live music in Kasauli.
Veda's take on Open Mic
Open Mic is an event where the stage is open for anybody to come and share a piece of themselves by singing, playing an instrument, reciting poetry, performing a dance, stand up comedy and anything else that they would like to share with the audience. Live Music in Kasauli is rare but at Hangout Rooftop Bar and Lounge we host an Open Mic from 4-7 p.m. every Sunday. So we have successfully hosted 25 Open Mics and every single one of them has been extraordinarily enjoyable.
**Check Out Pics below and click here for Videos of Open Mic.
We have had different artists from all over India and many International participants as well. Because of this Musical Evening at Hangout, more business has come to hotels in Kasauli. Many musicians have come up on stage and performed phenomenal covers of popular and unpopular songs. Some Amazing musicians have shared their own compositions with us at the Open Mic. Some instruments like Didgeridoo, Hand-pan, Mouth-harp, Ektara, Persian Setar which are not so common have also been introduced to our audience at the Open Mics.
We have had a few very Special Dance Performances and some Hilarious Stand Up Comedy Acts as well.