Hangout Rooftop Bar & Lounge
Estimated reading time: 7 minutes
Hangout is the Most Happening Bar in Himachal Pradesh.  Famous for Tasty, healthy & Good Food, Great Ambience, Refreshing Drinks, Cocktails. So Headphone Parties, World class Music definitely make it the Best restaurant in Kasauli. Certainly Hangout is the 1st hotel in India to start Headphone parties.
Gift Coupon by Hangout ☛ Valid upto 6-8-2021 : 20 % Discount on All drinks and 15 % Discount on Food on showing a screenshot/Photo of this Line. Please show this coupon at the time of ordering your Items.
The Most Happening Bar in Kasauli, Himachal Pradesh
Dining out always has its own place in life. So if you Plan a Night Out in Kasauli, Google the "Most Happening Bar in Himachal". In spite of its tiny size, Hangout defeats and stands apart as the best Bar and Restaurant in Kasauli. It has a spectacular design to its live theater of delightful food, global music, good wines, artistry of its splendid chefs, musicians and DJs.
Introducing "Hangout Roof Top Bar & Lounge"! the Crown of Kasauli Regency (honoured as Prince amongst the Hotels in Kasauli). We'll take you on a taste safari… through exotic views to find nature fresh culinary delights. We'll help you escape the "concrete jungle". Every evening at Hangout becomes memorable because DJ Paras plays amazing songs and videos. There are some live guitar evenings, Live music, no other Resort in Kasauli would offer.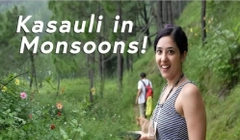 Tanya Khanijow's Video on Hotel Kasauli Regency
DJ Paras makes you enjoy the best and the latest western songs. Dj Saksham Khanna Plays some Crazy Techno Music on Thursdays. So you have to move your body for sure. For instance Sunday is for budding artists musicians and guests willing to sing perform and play Musical instruments.
Silent Noise or Headphone Party also called Silent Disco Party
Hangout started Silent Noise or Headphone Parties, a European concept a decade ago. Therefore Hotel Kasauli Regency became the 1st hotel in India to start Headphone parties. Nightlife in Kasauli generally means, "A few drinks and retire in your room" but if you are staying in Kasauli Regency better not miss the fun on the Rooftop Pub & Bar -The Hangout. Tripadvisor has given it 5 star reviews and ranked it the best Bar and Restaurant in Kasauli, Himachal Pradesh, India.
Kasauli Open Mic Every Sunday 4 to 8 PM
Hangout Rooftop Bar & Lounge has recently started hosting a series of events on a weekly schedule. It started with an Open Mic event  which is the first of it's kind in Kasauli and since then every Sunday from 4pm onwards. Hangout hosts an Open Mic with tantalizing live music, poetry recitals, stand up comedy and so much more. The musicians at Hangout play various instruments and perform a variety of songs in different languages from across the globe. Hangout has offered this platform for anyone visiting and willing to share their art and talent with the world.
Techno Music in most Happening Bar in Himachal Every Thursdays
Thursday's at Hangout are kept for Techno music so Thursday is when you need to put on your dancing shoes and hit the floor. The music ranges between genres like Techno, Funky, Progressive, Deep House and even Oriental. The vibe inside the bar & lounge is completely different and upbeat. And you will want to lose your mind, enjoy the music and move your feet. And of course, Saturday nights at Hangout are unforgettable unless you wake up with a hangover on Sunday. But one should never regret because that's how Saturday Nights are supposed to be. The DJs at Hangout play Funk and Disco music on Saturdays.
Have you ever been to a Headphone Party or Silent Disco ?
We are gonna start with our Headphone Parties as soon as Corona is over. Because of Corona Pandemic we discontinued these Parties. Silent Disco or Headphone parties is an International way of listening to music late at night and without disturbing others. Hotel Kasauli Regency is the first Hotel in India to start Headphone parties 10 years ago at Hangout.
Contact Us- Contact Details of Best Hotel in Kasauli 
Budget Kasauli Hotel Tariffs          Get Upto 40 percent Discounts on Weekdays     Offers by Goibibo       Discounts offered by Makemytrip