Kasauli Regency in News
Hotel Kasauli Regency has been in news in various news papers and Magazines. Rahul Pandita was the first journalist who fell in love with the cool vibe, live music by Sanju Guitarist at Hangout. He visited Kasauli many times and Hotel Kasauli Regency was in News many times. He has been visiting this Hotel with friends.  In past Nilesh Misra and Shilpa Rao have also visited the Hotel. So Nilesh is a writer and has written songs for movies. Shilpa Rao is Bollywood singer and has sung many songs. Regency is one of the Best Hotels in Kasauli Himachal Pradesh.
The Deputy Commissioner Solan has declared the Highway from Chandigarh to Kasauli Safe for driving for tourists. Earlier it was open only for Routine Transport, but now guys, visit Kasauli and Shimla. Manali & parvati valley still remains closed for tourism. Soon it will be restored. have fun in Hills after a long wait from Heat wave…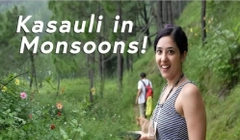 Tanya Khanijow's Video on Hotel Kasauli Regency
NEWS PAPER–HINDUSTAN TIMES ——–> News of Hotel Kasauli Kegency by Rahul Pandita in Hindustan Times, News Paper.
OPEN MAGAZINE————————> News of Hotel Kasauli Regency in Open Magazine
Contact Us : Best Hotels in Kasauli
Estimated reading time: 1 minute