Kasauli Regency in News
Hotel Kasauli Regency has been in news in various news papers and Magazines because of Rahul Pandita. He is a Journalist and has been visiting this Hotel with friends.  In past Nilesh Misra and Shilpa Rao have also visited the Hotel. So Nilesh is a writer and has written songs for movies. Shilpa Rao is Bollywood singer and has sung many songs. Regency is one of the Best Hotels in Kasauli Himachal Pradesh.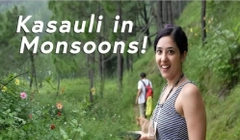 Tanya Khanijow's Video on Hotel Kasauli Regency
NEWS PAPER–HINDUSTAN TIMES ——–> News of Hotel Kasauli Kegency by Rahul Pandita in Hindustan Times, News Paper.
OPEN MAGAZINE————————> News of Hotel Kasauli Regency in Open Magazine
Contact Us : Best Hotels in Kasauli
Estimated reading time: 1 minute