Best Techno Music Party in Kasauli, Himachal, India
Estimated reading time: 6 minutes
We play Techno Music on all Thursdays from 4 to 7 pm at Hangout Rooftop Bar.  Followed by Deep House Music and Jam sessions from 10.30 pm onwards. So join us for Best Techno Party in Himachal, India at Hangout Rooftop Bar and Lounge. Djs Saksham Khanna,  Shantanu, Veda and Paras play some great Techno music and shift to Trance later at Hangout.  Kasauli Regency houses the Most Happening Bar and Lounge in Kasauli, Himachal Pradesh, India.
Book Your Ticket Online, Pay later at Hangout
Techno Music Party at Hangout Bar, Best in Himachal, India
Today is the 148th Successive Techno Music Evening . Techno Music in Himachal is trending fast, I have travelled 20 countries and been to many parties playing Techno/Deep House Music. DJ's at Hangout are not a bit less than the European DJs. Believe me and join us today. I have been to a similar place in Amsterdam. Trance Music Parties are already very common in travel destinations in Himachal. Now best Techno Party in Himachal, India happens at Hangout Bar near Chandigarh city. Only an hour drive from Chandigarh, Panchkula.
Hangout Bar, Kasauli
Click to Reach Techno Party Via Google Maps             
Hyacinth : Our Event Organizer
Shantanu Shekhar, the boss-man of this Event Company, started few years ago at Hangout only. The event Company Hyacinth has a unique name, you won't get it first time. But a company with future in Music Industry and has many artists for techno, Hard Techno. They have been organizing events all across India. Recently in Kasol, Chandigarh and Kasauli.  
Best in Techno Music our 'DJ Maalbro' Saksham Khanna
SAKSHAM KHANNA, known by his stage name DJ Maalbro is a Disc Jockey from Solan, Definitely the Best Techno DJ in Himachal Pradesh, India. Having been an electronic music enthusiast since his childhood, DJ Maalbro started his professional DJing journey in 2018 at a young age of 22. Since then he has moved up the ladder in DJing and is upping the game in the House, Techno and Psy scenes in North India. He has played at the Himala Music Festival and has opened for artists like Ma Faiza, Arreo and Browncoat. He has been an active part of this techno movement and hosts a weekly Rooftop techno evening in Kasauli.
Veda, also known as Vedalaayla and her real Passport name  Veda Dogar, is born & brought up in an Upscale town with Europian feel, Kasauli. She is in hot demand and famous for Hard Techno. She has super busy weeks ahead and is travelling to Udaipur, Rajasthan end of July 2023. Because of her great choice & collection of music and groovy dancing moves while playing, she is winning lot of fans and with a follower base of more than 10k. She is becoming famous and most sought for  DJ in Chandigarh Himachal and now India.
Workation in Kasauli Himachal Pradesh
We don't take requests for Music or Songs
Global Music is always played at Hangout in  Best Boutique Hotel Kasauli Regency So basically discouraging kind of regular music played in marriage parties. Because of Music, Hangout has been famous among foreign Tourists. Travelers from 15 Countries around the world have volunteered here at Hangout. We had the best New Year's Party 2021 at Hangout last Thursday and not even a single Hindi or Punjabi song was played. Wow ! that was the best New Year's Party ever in my Life in Himachal. All other hotels in Kasauli stick to regular Punjabi music played on the New Years Eve.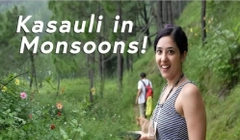 Tanya Khanijow's Video on Hotel Kasauli Regency
Contact Us : Luxury Hotels in Kasauli, Cell, Number, phone 
Introduction to this Music 
Dancing has been a very vivid art form of expressing one's feelings and emotions since ancient times. But it is also one of the best methods of exercise. So you must agree that dancing joyfully helps keep an individual healthy, fit and young at heart.
The tempo or BPM (Beats Per Minute) of techno ranges between 122-130. The human heart beats at about 80-100 BPM normally, but increases up to the same range as the BPM of Techno music while dancing. So Just like the phenomenon of resonance, this is when the human heart and the music are in synchronization. This makes us feel ecstatic and improves our blood flow along with several other health benefits. So, if you really want to free your body, shake a leg and groove to uplifting techno beats; Hangout Rooftop Bar and Lounge is the place to be. Few hotels in Kasauli have licensed bars and none has this kind of music or live musical evenings or Open Mics.
Headphone or Silent Noise or Silent Disco Parties
Hangout used to organize Headphone Parties a European concept of listening to music late at Night. Kasauli Regency is the first Hotel in India to Organize Headphone or Silent Noise parties at Hangout. Because of the current Corona Pandemic we have discontinued these Parties. Since We play 3 channels on Headphones: Western Music, Techno/Reggae, Indian Classical/ Trance. So you can hook on to any channel by the press of a button and click some great Pictures. But these days Techno Parties are getting famous at Hangout Bar Every Thursday.
Best Techno Party in Himachal, India
So, Techno Music in Himachal is becoming famous in places like Old Manali, Parvati Valley, Dharamshala, Bhagsu and Kasauli, because of Foreign travellers visiting these towns in abundance. Hangout has best DJs to playing non stop Techno Deep House Music for 5-6 hours, Techno Party becoming famous in Kasauli, Himachal, India.  A town 1-2 hours drive from Tri-cities of Chandigarh.