Contact No. Details Best Hotel Resort Kasauli Regency
Estimated reading time: 7 minutes
Click Below for Contact Details, Cell No. Gmail, Instagram, Facebook & twitter. WhatsApp Chat or Mobile Phone Number links are available to Contact the best Hotel in Kasauli, Luxury Resort in Kasauli:
01792272600
  kasauliregency@gmail.com
Click to Reach Resort Hotel  or Bar Via Google Maps
Book Online for Heavy Discounts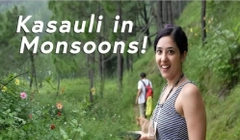 Tanya Khanijow's Video on Hotel
Postal Address: Kimmughat, Village Garkhal, Kasauli
District Solan, H.P. India – 173201

Watch Instagram Video of Balcony of Luxury Suite 212 & 312 by Tanya
We are on Social Media So you can click below for more info.
+91 98164 12913 : Hotel's Cell Phone No.
Contact No., Details of the Best Hotel in Kasauli, Resort
Hotel & Resort Kasauli Regency is a small hotel in Kasauli but with a different vibe. Resort Hotel has Luxury accommodation with modern Facilities and Theme parties keep happening here now and then.
Watch Youtube Video of Tanya Khanijow on Hotel Kasauli Regency. She booked on her own for 2 nights initially but ended up staying for 3 nights / 4 Days.
Hangout is a world Famous Bar situated on the Rooftop of the Hotel. When this Bar and Lounge  started Headphone Parties a decade ago, the hotel became India's 1st hotel to do so. Last year due to Corona these parties have been discontinued. But Soon we will start these Parties again after the pandemic is over. Most Happening Bar & Lounge in Kasauli, Himachal Pradesh, India and is famous for its special Musical Evenings: Open Mic  Techno Thursday Headphone Parties, Jam Sessions. So Contact the best Hotel in kasauli : 09816412913
Luxury, Entertainement and Live Music.
Another Landline to Contact Hotel: 01792273600
Contact us to Enjoy Kasauli Nature Walks by Vanita starting from Kasauli Regency,  Check out Pics by Nature Walks
Since there are a number of ways to contact us. Social media links, What App Chat is the best. Send us an Email or contact on Instagram of the Hotel. Facebook is another way. Our staff at the Front Office is available round the clock to check you in or guide you for bookings. We have 2 Facebook accounts one about Resort and another about Hangout. FB Group of Kasauli Regency has 4000 plus members. Once you decide to Reserve your room Click on our link below for Road Maps. Just hit it and follow the Map. So See you Soon for one of the special Musical evenings.
Click below anywhere on Google Map Road Directions from where ever you are to Reacch Us
Cell Phone : +91 98164 12913
Phone number: 01792-272600, 273600
E-mail: kasauliregency@gmail.com
Postal Address: Kimmughat, Kasauli
District Solan, H.P. India – 173201