About Kasauli | Hill Station | Colonial Town | Himachal
Estimated reading time: 6 minutes
Hill Station- Kasauli is a calm and Quaint, tiny, colonial town in India, untouched by maddening development. Famous author Late Khushwant Singh owns a house 'Raj Villa' on the Upper Mall and inherited by his son Rahul Singh. Who visits this town 3-4 times a year and loves to plays tennis in Kasauli Club. Rahul Bose Bollywood actor and Hollywood director, occasionally visits his house in the Colonial Town Kasauli. Both Rahuls love to visit Hangout, Rooftop Bar and Lounge.
Why Kasauli is much safer to visit in Himachal during the monsoons?
Since Kasauli is on top of a hill and has well developed catchment areas(drainage). All the water from higher areas flows down to lower areas very easily. Also, because there are no rivers or lakes or other water bodies around Kasauli. So there is no chance of getting the area flooded.
The highway and roads coming towards Kasauli are safe during this season. They are regularly maintained and cleared in case of any landslides. Thanks to the presence of Army and Airforce, any small glitch on the road has to be cleared within few hours.
Kasauli being a cantonement area is a very well organized and a safe destination in Himachal Pradesh, India. Technically Kasauli town can never be flooded even during a cloudburst because of being on top of the hill and no water bodies or streams nearby.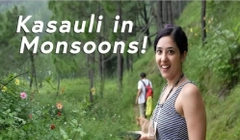 Tanya Khanijow's Video on Hotel
Best Time to Visit Kasauli : Monsoons Season and after
The Monsoons are actually the best seasons to visit Kasauli. Because of the breathtaking views, lush green hills and the pleasant monsoon breeze! Monsoon arrives during Mid June and stays till mid August. As soon as the Monsoons die down, Wow ! the most colorful flowers grow up on hills naturally. And can be seen on the Hills of Upper, Lower malls. Lower Mall is 900 Meters walk from Hotel Kasauli Regency. Kasauli Town is a feast for the photographers.
Most of the times during rainy season you can even see clouds floating into your rooms through open windows and doors. Hangout Rooftop Bar has the most scenic views and you can actually sit in clouds with a beer in Hand at the Rooftop Bar with almost 360 degree view of hills.
How to Reach Kasauli
Via Google Maps
Kasauli- the Hill Station
Legend about this Hill Station is that Lord Hanuman after taking Sanjivani herb from Himalayas rested his left foot on a small hill, the monkey point, a Hanuman temple. Tibetan market or Pine Mall is famous among  tourists for shopping of casual cloths, shoes and Souvenirs .
Sir David Semple in 1900 founded The Pasteur Institute- CRI. Ruskin Bond, an Anglo-Indian author was also born in the Colonial Town. Andy Mulligan, the Irish rugby international was also born in this town in 1936. Because British had to leave India during independence, so they sold their heritage Bungalows to few lucky Indians. A couple, Major Robert and Mary Hotz, one of few  Britishers settled here, had a very pretty daughter, Sandra.
The British Era Colonial Town
But in the early 1960s, British film director, Sir David Lean was filming his famous movie in this Colonial Town. So the charm of this town made Sandra fell in love with 20 years elderly Sir David lean and got married.
Kasauli club on Upper Mall is one of few heritage clubs established by the British in 1880 in this Colonial Town. Christ Church is town's prominent architecture and is 1.3 km walk from Hotel . Few hotels in Kasauli, Alasia, Maurice are from the British Era. In fact Kasauli's oldest Bar is in Alasia Hotel.
Best Sunrise in Hills, Mountains
Educational Institutions
The Lawrence School Sanawar is the oldest co-educational boarding school in the world. But Pine Grove School and St. Mary's Convent school are one of the best in North India. Other tourist spots are Heritage Market, Sunset point, Sunrise points, Lover's lane, Gilbert's Trail and Baptist Church, Lower Mall, Upper Mall, CRI, Pine Mall. Read Blogs
Contact Us : Best Luxury, Budget Hotels in Kasauli
*Check out pictures of the Hotel       *Vanita's Nature Walks      *Musical Evenings   *News     *Snow Fall in Colonial Town     *Hotel Kasauli Regency