Hotel Kasauli Regency- a boutique Hotel in Kasauli
Estimated reading time: 4 minutes
A boutique Hotel in Kasauli- Kasauli Regency
Hotel Kasauli Regency is small but a Boutique hotel in Kasauli, Himachal Pradesh. Hotel offers one of the best rooms and suites in and around this Hill town. Accommodation in this boutique hotel is excellent, trendy, upscale and the luxury is comparable to 5 star rating hotels in Kasauli.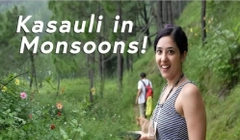 Tanya Khanijow's Video on Hotel
Boutique Hotels around the world
Initially in the USA and United Kingdom A boutique hotel was a name for Small hotel with 10 to 100 rooms. In other words boutique hotels have unique settings, themes, Yoga, Music, Theme evenings and painting classes but an upscale accommodation. These hotels appeared in 1980's in the cities of Paris, London and New York.
Hotel Kasauli Regency has a total of 16 rooms & suites. 7 rooms and 2 suites in are the main building with luxury and modern facilities. Other building has 7 Standard rooms with all the essential  amenities and facilities available in budget accommodation below Rs 2000. This Boutique hotel in Kasauli is famous for the Most happening bar in Himachal (HP) offering sumptuous food and refreshing drinks. Above all the rooms have beautiful views of hills and Mountains and 2 suites have huge balconies.

Watch Instagram Video of Balcony of Luxury Suite 212 & 312 by Tanya
This Rooftop Bar is the most happening bar in Himachal Pradesh. Travel Blog posts  have revealed and rated it the best Bar in Himachal Pradesh. Hangout Rooftop Bar and Lounge is the USP of this Resort Hotel because of non stop efforts of its owners. Vanita, Veda and Rajesh have travelled abroad and gathered new ideas for this bar and the boutique hotel.
The surroundings around are scenic but calm because the hotel is situated at a distance of 1.3 km by walk and 3.3 km by car from the hustle-bustle of the main town . Hangout hosts Techno Music on  all Thursdays, Open Mic on all Sundays , Funky music on Saturdays from 4pm onwards. So your evening at Hangout becomes special with great ambience, Good crowd, tasty food and drinks. Djs play global music, and also Headphone parties, live music and jam sessions are frequent.
Kasauli is a famous but calm and quaint hill station in India. Other tourist towns in India have seen maddening development but Kasauli remained left out in this race because of SPOKE & NGT. During off season you can not find many people in Heritage Market, Upper and Lower Mall. Boutique hotel Kasauli Regency is famous for its fun filled evenings at Hangout- Rooftop Bar.
Contact Us- Contact Number Best Hotel in Kasauli 
Watch Youtube Video of Tanya Khanijow on Hotel Kasauli Regency. She booked on her own for 2 nights initially but ended up staying for 3 nights / 4 Days.