Places of interest to visit in Kasauli
Places of Interest in and around Kasauli
 Places to be Visited are explained with distances:
Kasauli is a Colonial Hill town near Chandigarh. Places of Interest in and around Kasauli are explained with distances from Hotel Kasauli Regency.
Nature walks: Gilbert trail, Sunrise Point, Sunset Point, Lover's Lane, Upper Mall, Lower Mall and Pine Walk from Village Kimmughat via Kasauli Regency to Lower Mall.
Trekking Routes: from Kalka to Kasauli, from Manaon to Kasauli, from Kasauli to village Hari Ka Kheel.
Church of England : Estd.1860 -1.2 km
Kasauli Club: Estd. 1880- 2 km
Kasauli Brewery( World's Highest Brewery): Estd. 1855-800m
Lawrence School, Sanawar: Estd. 1847-1.5 km
World Heritage Railway Track : Kalka-Dharampur-Shimla
Old British Cantonment: Dagshai -12km
Old Gurkha Army Base: Subathu-23 km
Kasauli Heritage Market, Cafe Rudra- 1.5 km
Manki Point (Hindu God, Hanuman Temple)- 3.5 km
Central Research Institute: Estd. 1906- 1.5km
Jantar Mantar Chhoo Mantar Mahadev: Nahri Temple-5 km

Watch Instagram Video of Balcony of Luxury Suite 212 & 312 by Tanya
Want to Reach Kasauli from Delhi, So click.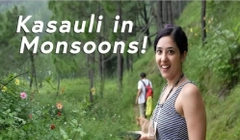 Tanya Khanijow's Video on Hotel