How to Reach Kasauli Regency via Google Maps
Estimated reading time: 3 minutes
How to Reach Kasauli, Hotel Kasauli Regency
Village Kimmughat, Garkhal
Kasauli, Himachal 173201
Kasauli
Click to Reach Hotel Via Google Maps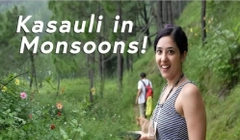 Tanya Khanijow's Video on Hotel
Distances by road
New Delhi – 310 kms
Chandigarh – 62 kms
Shimla – 69 kms
Road Directions to Hotel
From Delhi NH-1 till Ambala and then Zirakpur,  on NH-22 till Dharampur – Since there are 2 roads from Dharampur to reach Garkhal,  So you can either choose a 3.5 km longer road or less wider but 3.5 km shorter road to reach Kimmughat, Kasauli.
Road 1. Take a left turn from P A Pinion (Maxima Chowk) 1 KM short of Dharampur on NH-22. So a smaller road on left goes to Kasauli which is 12 km. But Reach Garkhal which is 8.5 km from this Chowk.
Road 2. Now go 400 m ahead of Maxima chowk on same NH-22 and take a left turn from Sukhi Johri, Garkhal is 5 km.
From both Roads, you can reach Garkhal. So Take the only left turn towards Kasauli,  After 500 meters you will reach Kimmughat, Kasauli is further ahead.
Information :Kasauli Regency is 3.3 kms Short of Kasauli on left side, 30 mtrs away from main road, and can be seen from main road on left side. at night you can see a sign board "Hangout-Rooftop Bar" on a small booth on the left.
Click Below for Road Map Directions to Hotel or Hangout Rooftop Bar.
By Train
Kalka Railway station – 36 km
Dharampur Railway station -10 km
Reach By Air
Chandigarh Airport – 62 kms
Note: But here is also a shortcut through Sector 4, Parwanoo (H.P.) via Jangeshu. Because it is a little dicey, do it if you are a very good driver in hills.
There are various trekking routes to Kasauli as well, But from Kalka, from Jabli and from Garkhal. Because the trek from Jabli to Kasauli is little longer, approximately 4 km. So one can do a smaller trek from Kimmughat to Kasauli 1.4 km.
Contact Us- Contact Details of Best Hotel in Kasauli 
Hangout organizes Techno Music on Thursdays, Kasauli Open Mic on Sundays and Other Musical Evenings.